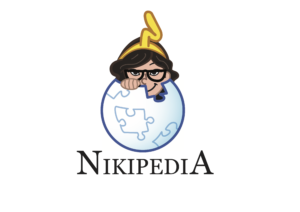 WHAT IS IT ?
You will never have seen a show like Nikipedia before. You could even see it twice and the second experience would be quite different from the first.
WHO IS SHE ?
You mean apart from LaaLaa from Teletubbies!
At the heart of Nikky's fascinating and diverse career, lies the belief in the magic of communication between performer and audience.
Over the Hills…
You can now purchase Nikky's new book "Over the Hills and Far Away – My Life as a Former Teletubby"
Available online from WHSmith/Waterstones/Amazon and in all good book shops.
About the SHOW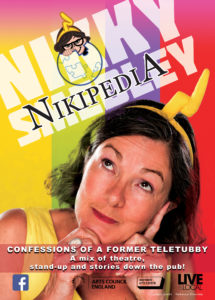 Latest Comments
"A great and funny show."
"Very thought provoking and wide ranging."
"Magnificent."
"Different from things I've experienced before."
"It has something to say about the world in which we live."
"An excellent, uplifting, funny and beautiful show!"
Upcoming Performances
Have a look at the upcoming performances and get your tickets:
PERFORMANCE NEWS!!
Nikky will be at this year's Edinburgh Festival Fringe with a new show drawing on material from the 'Nikipedia' show, but focussing more exclusively on her experiences playing LaaLaa the Teletubby… including the darker side of being a giant yellow puppet!
CLICK ON THE PERFORMANCE LINK FOR MORE DETAILS.
Not to be missed!!
Venue / Tour bookers
Nikipedia is a flexible, easy-to-host show which is available for touring throughout the coming year.
"At the heart of Nikipedia are the stories told by an expert storyteller but chosen by the audience; sometimes harrowing, sometimes funny, always honest. Each performance is unique as Nikky leads them through her fascinating career. It is inimitable, interactive and eminently stageable in village halls." John Laidlaw MBE – Live & Local Rural Touring Network
Download Marketing / Press Pack